Whether you're planning a small, intimate family wedding, or you're going all out with something crazy and unique, we would love to be your wedding photographer!
Our style is light and airy, capturing natural moments throughout your day and keeping posed photos to a minimum, therefore allowing you and your guests to enjoy the day and give you photos which reflect the true feel of your wedding day.
All The Details
I love capturing bridal & groom prep so that I can not only get some natural photos of you and your support in the excitement of the day, but also to get some quiet time to capture all the little details that will make your day extra special – from the shoes, dress and veil, to heirloom jewellery and that card from your beloved that makes you shed a tear (or two!)
Formal Photos
I like to keep formal, posed photos to a minimum so that you can enjoy your day as much as possible! For group photos with family and friends, we will work together to make a list of 10-15 groups you would like to have captured on the day.
For photos of just the two of you, I love working as naturally as possible. With just a few key poses, you will have a beautiful mixture of traditional photos (which parents and grandparents will love!) and organic photos of you two interacting with each other – true smiles, honest laughs, less cheesiness! Couples portraits can be done on site, or if you prefer we can head off to a second location to give you both 30 minutes of time away from guests.
Let's Party!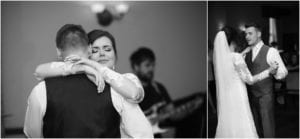 My standard full day package already includes cover until 8pm, which for many weddings is perfect timing for the first dance. However, should your first dance be later into the evening, or you would like extra shots of your gran throwing some awesome moves on the dance floor, you can easily add extra time for just £75 per hour.
When it comes to the evening, we get onto the dance floor to get the best photos and immerse ourselves in with your guests. I can't promise we won't be dancing or singing along too, though…